Quality, experience and service orientated.
Located in Nivelles in the Brabant Wallon since 1986, Inter-Confort imports and supplies vending machines of international renown.
Our target:
Product manufacturers, retailers and professionals in search of quality in automatic vending machines for their customers.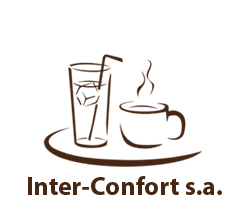 Our winning assets:
Our 30 years of experience in snacking and vending are at your disposal. This permits us to propose THE ideal "cut to measure" solution taking into account your product particularities and customer expectations.
Your Manager for Wallonia, Brussels, Luxemburg & northern France:
Philippe Vergught
ph.vergught@inter-confort.be
Cell: +32 (0)476/47.17.81
Office: +32 (0)67/89.32.89
Your Manager for Flanders, Brussels and the Netherlands:
Jean-Pierre Michiels
jp.michiels@inter-confort.be
Cell: +32 (0)475/64.57.31
Office: +32 (0)67/89.32.89